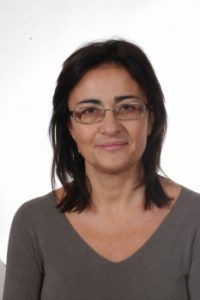 Short Bio
I was born in L'Aquila, Italy, on August 1972. I received the Laurea degree in Electronic Engineering (summa cum laude) in 1997, from the University of L'Aquila, Italy, and I got the Ph.D. in Microelectronics and Telecommunications Engineering in 2001, defending my thesis on "Power management in CDMA-based satellite systems" .
I have been employed by Aalborg University, Denmark, ), as Research engineer (2000-2001) and as Assistant Professor (2001-2003) in the Wireless Networking Groups (WING) coordinated by Prof. R. Prasad. In 2003 I won a competition for a permanent position as Assistant Professor at the Department of Electronic Engineering of the University of Rome Tor Vergata.
Research interests
I have worked for many years on wireless access technologies (CDMA, OFDM) and in particular in the waveforms design, optimization and performance analysis of radio interfaces both for terrestrial and satellite communications. An important part of my research has focused on the use of EHF bands (Q/V band, W band) for satellite communications and on the integration of satellite/terrestrial/HAP (High altitude Platforms) systems.
Currently my main research interests are in the use of radio-frequency signals (opportunistic signals such as WiFi or specifically designed signals) for sensing purposes, and in particular.
Device-free RF-based activity recognition/crowd counting/density estimation and localization
UWB radar imaging (i.e., stroke detection)
where I can extensively use the previously acquired competences on the RF propagation channel in presence of multipath and on digital signal processing
Research
I have been, and still are, active in the following areas:
Antenna Beamforming for interference mitigation
EHF bands Communications
Professional Services
Editor in Chiefs of the Journal of Communication, Navigation, Sensing and Services (CONASENSE), River Publishers
Associate Editor of the Wireless Communications and Mobile Computing Journal , Hindawi
Guest Editor for Journal of Communications ISSNs: 1796-2021 – special issue on: Wireless
Gigabit Technologies (10/2009)
Guest Editor for the Journal Medical & Biological Engineering & Computing, Springer –
ISSN: 0140-0118 – special issue: Wearable computing and communication for e-Health (11/2012)
Guest Editor for the Wireless Personal Communications, International Journal of, Springer, –
Special Issue on "Increasing Efficiency in Broadband Fixed Wireless Access Systems: From
Physical to Network Layer Solutions" (10/2006)
I have been General Chair of ISABEL 2010 – 3TH INTERNATIONAL SYMPOSIUM ON APPLIED SCIENCES IN BIOMEDICAL AND COMMUNICATION TECHNOLOGIES
I have been TPC Co-Chair of the conferences
Wireless Vitae 2009 (1st International Conference on Wireless Communication, Vehicular Technology, Information Theory and Aerospace & Electronic Systems Technology)
EuWIT2009 (European Wireless Technology Conference 2009, Rome, 28 – 29 September 2009)
18th International Symposium on Wireless Personal Multimedia Communications, WPMC2015, Hyderabad, India, Dec. 2015
I have been serving in the TPC of the major conferences in the field (e.g., IEEE ICC, IEEE Globecom, IEEE PIMRC) and I serve as peer reviewer for the most important IEEE/ACM journals and international conferences in the ICT area.
Teaching
I am the Coordinator of the II level Master in Engineering and International Space Law in Satellite Communication, Navigation and Sensing Systems of the University of Rome Tor Vergata, where I have also taught Principles of Satellite Communications.
I currently teach the following courses:
Digital Communications
ICT Infrastructure and Advanced Applications (last here of the master degree, topics that are covered are Smart Grid, WSN, Internet of Things)
In the past, I have taught the course of Information Theory and Coding, Digital Signal Processing and Advanced Transmission Techniques.
Projects